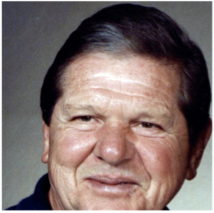 July 29, 1933 ~ March 22, 2016
My darling, sweet husband, Johnny Allison, died in my arms (Ramona) at home on Tuesday, March 22, 2016. He was the loving and proud father of Bret Allison, Cornell Evans and Troy Evans and his beautiful daughter, Jodi Allison, who passed away February 20, 2015.
John was born July 29, 1933 in Ogden, Utah to Anena Shupe and Kenneth Dean Allison. He graduated from Ogden High School in 1951. Immediately following high school, he joined the U.S. Navy and served during the Korean Conflict. After his service he returned to Ogden to find work and attend Weber College where he obtained his Bachelors Degree in 1964.
John and Ramona began their remarkable marriage in September 1964. They resided in Kaysville for 22 years raising their lovely children. They then moved to Ogden for the last 23 wonderful years.
John had a successful and rewarding career with The Boeing Company where he earned the position as their Utah Financial Manager. He retired in 1994 and enjoyed an extraordinary retirement with his wife.
During John's lifetime he was very blessed to be able to take many trips with his wife and children which included skiing at Wasatch, Colorado, Montana and Sun Valley; camping, fishing and boating at Lake Powell and Flaming Gorge; and of course Disney Land.
He and his beloved wife also enjoyed taking many ocean and river cruises plus a very special yacht trip with his friends cruising the Canadian waterways. They explored the world together and shared amazing experiences with Africa being a favorite among Asia, South America, Australia, New Zealand, Europe, Scandinavia, Russia and the Mediterranean countries. They were also very fortunate to travel to all 48 states, first with their Gulf Stream trailer, then in a new Monaco motor home. Additionally they enjoyed several trips to Hawaii and Alaska. A highlight was traveling in their motor home across all the Canadian Provinces including Newfoundland.
Beginning in 2001 he and his wife were able to spend their winters at their lovely beach front condo in Mazatlan, Mexico.
John was a member of the Church of Jesus Christ of Latter-day Saints and always enjoyed their home visits. He was an avid golfer and sports enthusiast and loved his buddies that shared the same passion. A special joy to him was his other countless friends, from traveling, to dining out and to sharing the beach at their condo.
John is survived by his wife, Ramona Fisher; and his children: Bret Allison (Mike) Palm Springs, CA, Cornell Evans (Andrea) Centerville, UT and Troy Evans (Kathy) Layton, UT.
He is preceded in death by his parents; his daughter, Jodi Allison Pace (David); and his brother, Dean Allison.